Janeiro 2020
| Seg | Ter | Qua | Qui | Sex | Sab | Dom |
| --- | --- | --- | --- | --- | --- | --- |
| | | 1 | 2 | 3 | 4 | 5 |
| 6 | 7 | 8 | 9 | 10 | 11 | 12 |
| 13 | 14 | 15 | 16 | 17 | 18 | 19 |
| 20 | 21 | 22 | 23 | 24 | 25 | 26 |
| 27 | 28 | 29 | 30 | 31 | | |
Calendário
Quem está conectado
Há
2
usuários online :: 1 usuário cadastrado, Nenhum Invisível e 1 Visitante
Pedro
[ Ver toda a lista ]
O recorde de usuários online foi de
47
em Sab Abr 02, 2016 12:28 am

Game Features:

721 Pokémons to catch;
6 times of the day: morning, afternoon, night, etc;
4 types of weather conditions: Rain, Heavy Rain, Sandstorm, Snowstorm, Heat wave;
350 attacks;
4 regions: Kanto, Orange, Johto and Hoenn;
28 Badges;
7 Battle frontier symbols;
Pokémon Contests;
More than 800 unique items;
More than 7 mini games: Slot Machines, Voltorb Flip, Mining for Treasures, Puzzles, triple Triad, Dodrio Berry Picking, Type Quiz, etc;
Characters of the series of Pokémon;
Music from Pokémon series;
Double trainer battles;
Pokémon can be caught at different times of the day;
Phone Calls System;
Radio System, using in game musics;
Day-care System;
Lottery System;
Kurt Pokéballs;
Players can plant Berries and Apricorns;
Bug Catching Contest;
Safari Zones;
Trade Pokémon with other NPC in game;
Fairy-type;
Mega Pokémon System;
Primal Pokémon System;
Controls System Added: Players now can choose the game controls;
And other things...
______________________________________________________________________________________
What's new in this version of Pokémon Chronicles v16.3:


1- Welcome to Johto Region Part 4: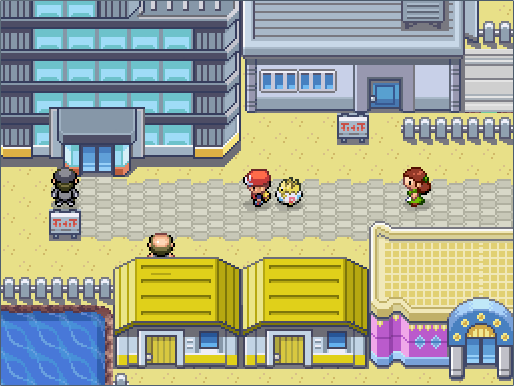 Now players can go to Ilex Forest, Route 34, Goldenrod City, Route 35, National Park, Route 36, Route 37 and Ecruteak City.
IMPORTANT NOTE:
This is only the part 4, johto will be available until Ecruteak City.
2- Pokégear System:


Players can get the Pokégear after answer a few questions from the recepcionist.
And the Pokégear system will be available by 2 ways: by item or in the Pause Menu.
Pokégear has this options: Town Map, Radio and Phone options.
Town Map: Shows players present location.
Radio: Players can listen a chosen music from the list anytime.
Phone: Players can register important NPC, matchcall option and some little options in further updates.
IMPORTANT NOTE: For now Pokégear will have this options, but, we can add one or two extra options in the future.
3- New Minigame - Lottery Ticket:


If the ID number of your Pokémon matches the lottery ticket ID numbers, players can receive a prize.
Players can only play one time per day.
Prizes list:
TM 88 - matched 5 numbers.
Net Ball - matched 4 numbers.
Quick Ball - matched 3 numbers.
Sitrus Berry - matched 2 numbers.
Oran Berry - matched 1 numbers.
4- Improved Loading Screens:


From now on, loading screen or loading chapter screens, will load around 70% more faster and when the loading is complete, the press enter button will appear. This is for all of the loading screen / chapter screens.
Note: The loading screens or chapter screens has suffered an huge update, because now the quality of the graphics are in HD.
5- Pokémon 4ever Event:


When players entering the Passage house from Azalea Town to Ilex Forest this event will begin.
This event is a little bit small than the other movie's events and the entire events will occur only in Ilex Forest map.
Note: The movie's events only contains the most important history parts from the Pokémon series / movies.
6- Pokémon Bank System:
The Pokémon Bank is only in Goldenrod City and this bank have:
Pokémon Bank - Mystery Gift shop - Post Office (have these 3 services).
Using Bank system players can deposit money, withdraw money, view account, and other simple options.
In Mystery Gift Shop, the players can receive their gifts.
In Post Office, the players can buy all types of mail.
7- Goldenrod Underground Shops: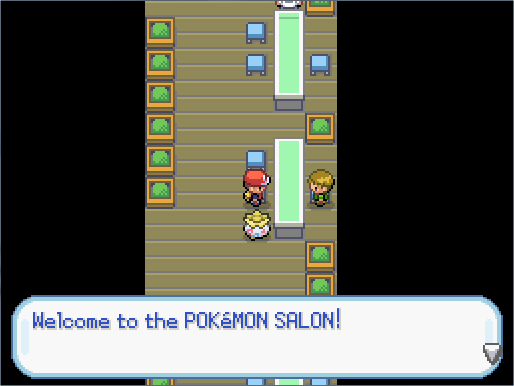 In the underground of Goldenrod city, players can find a new types of shops that only appear by the day of the week.
Old Man shop = sales unique items.
Medicine Lady shop = sales unique and useful items.
Pokémon Salon = this improves Pokémon happyness. (2 salesman, one improve more than the younger one)
So it's time to go shoping and find the salesman.
8- Bug Catching Contest: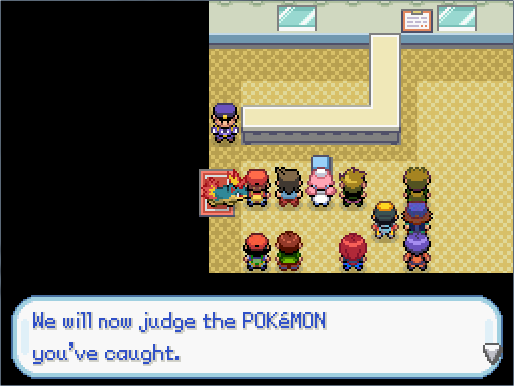 Now players can participate in the Bug Catching Contest in National Park.
The contest only be available in this days of the week: Tuesday, Thursday and Saturday.
Rules to participate:
Players must have the bug catching contest balls from the attendant.
One Pokémon in party. (players can have six Pokémon with them, but when entering the contest, they can choose 1 Pokémon from the party).
20min to catch a bug Pokémon.
The contest ends when the player: quit, run out of contest balls or run out of time.
Players also can change the catched bug Pokémon for the newly catched one.
Players can keep the catched bug Pokémon.
Trainer partners are not allowed in.
Prizes:
1st - Sun Stone.
2nd - Everstone.
3rd - Sitrus Berry.
Consolation prize - Oran Berry.
Note: Players can train in the contest with that choosen Pokémon if they like. The passage houses will change the background music when it's contest days.
9- Day-Care in Johto Region:

Now players can breed their Pokémon in Johto Region in Route 34.
10- Pokémon Follower System Upgraded to the Last Version: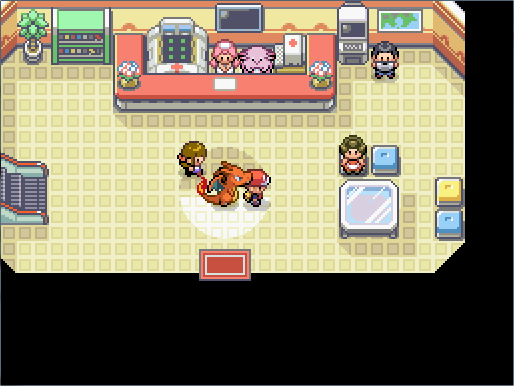 The Pokémon Follower system has suffer a huge update, so many bugs or errors where fixed for good and other things like:
Water-type Pokémon or other kinds of Pokémon are not allowed to surf, dive with the player. (the system call the Pokémon into their balls).
When the Pokémon has any stat condition like poison or other, the Pokémon will change the tone color to the respective stat condition.
From now on, all Pokémon followers will not always animate, they only animate when players move, this way is more realistic. But, bird Pokémon, levitating Pokémon will always animate, this is an exception.
Pokémon that always switching for another in the party when player faces a direction was fixed/canceled by the system now.
Players still can call or withdraw their Pokémon by pressing the default button "Ctrl", but in Controls menu players can change the button.
Pokémon Follower can't follow when player uses bikes.
When player changes Pokémon, when the first Pokémon in the party dies, in events, when evolving and so on, The system refreshes the graphics to match the "real" Pokémon when the other was "missing".
Note: When fixing or alterated some things in this system, we reduce some lag problem.
11- New Trainer Partner: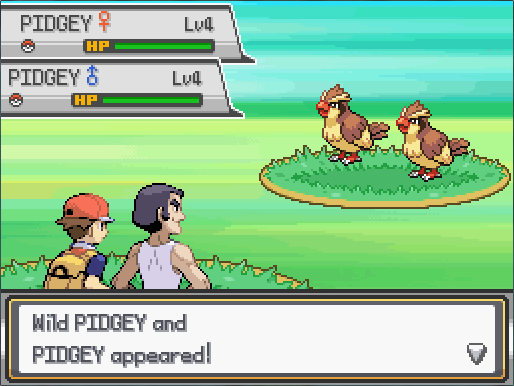 New trainer partner added to the game: the Poké Dude.
Players can find him in Route 29.
It's a trainer partner for Johto youger trainer like the Old Man in Viridian City, his Pokémon are all lv15.
This is the first trainer partner in Johto region, in further updates players can have this Trainers Partners in Johto region:
Poké Dude, Pokémon Trainer Jimmy, Champion Lance.
0- Other Things:
Fixed - Little bug in Bill's event when player presses NO, switches misplaced.
Fixed - Team Rocket Jessie and James in Mt. Moon have got overpowered Pokémon, due to a misplaced event in Ilex Forest, caused a change in events, this events are pratically the same but with diferent lvs.
Fixed - In Day-care in Mandarim Island after player receives an egg and go to the Pokécenter, the game crash and an error happear. But when players go to other maps and then to the Pokécenter the error fixed itself, after doing several tests, one little bug was found, the event that creates a storm from movie 2 events are clashing with day-care system, so in further versions, Mandarim Island will not have that event for ever.
Fixed - Missing evo codes for Yanma, Yanma doesn't evolve.
Fixed - In Violet City, a youngster wants to trade his Onix for a Bellsprout, but he trades an Onix for an Onix.
Added Missing Megabeedrill back sprites.
From now on, trainer partners will not be allowed in: Pokémon Leagues, Safari Zones, Bug Catching Contests.
Added / updated characters from Pokémon series overworld sprites.
Fixed some problems in Tilesets in Orange Region.
Fixed some problems in Ilex Forest, Goldenrod City and Ecruteak City.
Changed Saffron Fighting Dojo master for the real one from the anime series from now on.
Fixed Goldenrod Underground Teleporters.
Fixed Sudowoodo events.
Fixed Bill chat in Ecruteak Pokécenter.
Changed Game icon.
Game speed was improved.
And other improved things / repair bugs and errors.
IMPORTANT NOTE: Lag is expeted in Goldenrod City. If RPG Maker XP had a better engine, the lag will not be existed. So, my game have some lag in outdoor maps, most in huge maps like celadon city, Goldenrod etc. And the night windows in the houses creates some lag too, because there are many events of them. To eradicate all the lag, a script anti-lag is needed and a very exp. programing expert.
_________________________________________________________________________________________________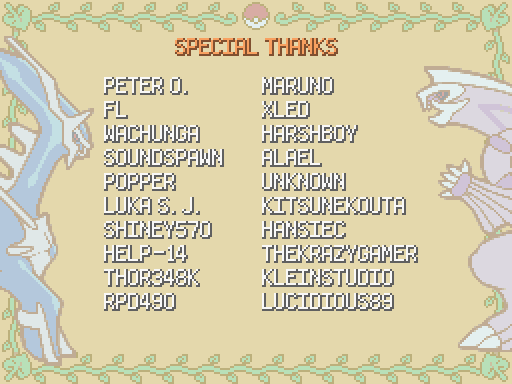 _________________________________________________________________________________________________
If the game crashes on your PC, we can repair it by sending us your saved game.Report bugs or errors here:

Misplaced Bill's Face in Ecruteak PokéCenter.
Players got crash after battling Gary for the first time in Oak's Lab, due the Pokémon follow system don't refresh at a point and the A.I. (artificial inteligence) don't detect it at time and then make the game to crash.
_________________________________________________________________________________________________
IMPORTANT NOTE:
The players can continue with their save games.
Note:
When the player have some error or bugs, send the saved game by uploading in mediafire, 4shared, mega.co, etc. so can i fix the problems. Next version this errors will be fixed. And remember, this project are still under development.
_________________________________________________________________________________________________
Game's Email:
pokemonchronicles@iol.pt
Download:
A new version has been released - version 16.5.

______________________________________________________________________________________

Download Pokémon Chronicles through parts:


A new version has been released - version 16.5.
Última edição por Ricardo PT em Sex Out 14, 2016 3:01 pm, editado 8 vez(es)
Attention all players: I uploaded v16.3 again after fixed some issues.

So, if you want you can download v16.3 again to fix that issues.

WARNING: The players that already reached the sudowoodo events will not have the "fix" because an order in the switches of that events so they must send the save files through game's email.

NEW: I added a tool to boost game speed in game's folder. Read the word file to know how to use it.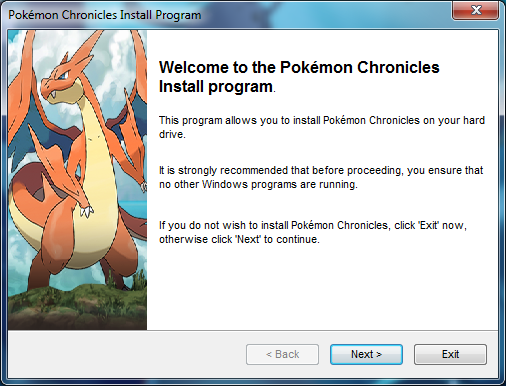 Attention all players: I uploaded v16.3 again for those who can't download it due the size of the game. So I will post here in this section Pokémon Chronicles in 3 parts.
This way is more simple to download, all files are in winrar, and to extract the game just extract the part 1 with the other 2 parts in the same folder or location and it automaticaly join all parts into 1.
Another thing, from now on Pokémon Chronicles as it's very own game installer, like in the image. So to install the game, you must run this exe and you can define where to install it or making shortcuts, just follow the instructions on the exe. To unistall the game, you can use Control Panel or run the unistall exe in the game folder, after that you can install further versions for example.
I improved the Pokémon Chronicles instalation to make it easy for players and with this method, players can continue with their old save games without errors or problems.
And this exe will run as administrator in your PC's.
---
Permissão deste fórum:
Você
não pode
responder aos tópicos neste fórum