Janeiro 2020
| Seg | Ter | Qua | Qui | Sex | Sab | Dom |
| --- | --- | --- | --- | --- | --- | --- |
| | | 1 | 2 | 3 | 4 | 5 |
| 6 | 7 | 8 | 9 | 10 | 11 | 12 |
| 13 | 14 | 15 | 16 | 17 | 18 | 19 |
| 20 | 21 | 22 | 23 | 24 | 25 | 26 |
| 27 | 28 | 29 | 30 | 31 | | |
Calendário
Quem está conectado
Há
2
usuários online :: 1 usuário cadastrado, Nenhum Invisível e 1 Visitante
Pedro
[ Ver toda a lista ]
O recorde de usuários online foi de
47
em Sab Abr 02, 2016 12:28 am

Game Features:

721 Pokémons to catch;
6 times of the day: morning, afternoon, night, etc;
4 types of weather conditions: Rain, Heavy Rain, Sandstorm, Snowstorm, Heat wave;
350 attacks;
4 regions: Kanto, Orange, Johto and Hoenn;
28 Badges;
7 Battle frontier symbols;
Pokémon Contests;
More than 800 unique items;
More than 7 mini games: Slot Machines, Voltorb Flip, Mining for Treasures, Puzzles, triple Triad, Dodrio Berry Picking, Type Quiz, etc;
Characters of the series of Pokémon;
Music from Pokémon series;
Double trainer battles;
Pokémon can be caught at different times of the day;
Phone Calls System;
Radio System, using in game musics;
Day-care System;
Lottery System;
Kurt Pokéballs;
Players can plant Berries and Apricorns;
Bug Catching Contest;
Safari Zones;
Trade Pokémon with other NPC in game;
Fairy-type;
Mega Pokémon System;
Primal Pokémon System;
Controls System Added: Players now can choose the game controls;
And other things...
______________________________________________________________________________________
What's new in this version of Pokémon Chronicles v16.5:


1- New Screen Sizes:


Diferent types of screen sizes were added to the game:
S= very small screen;
M= Normal screen (the game system uses this size by default);
L= a bitte larger than M size;
XL= a bitte larger than L size;
FULL= Full screen.
2- Border Option: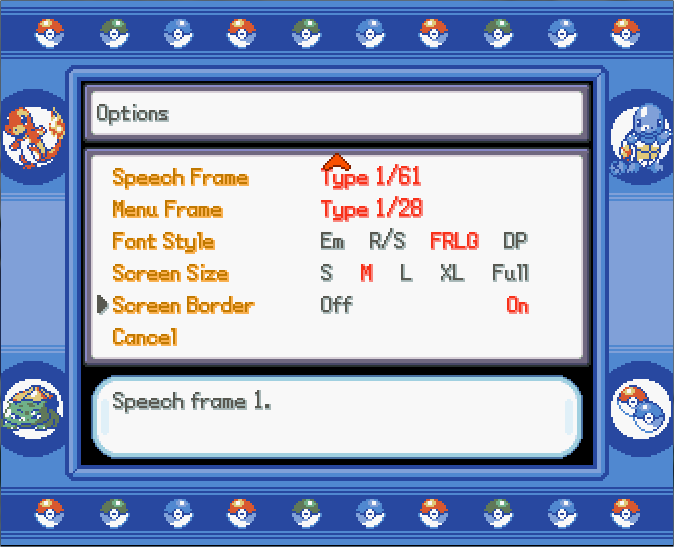 Screen border option can be toggle ON and OFF. When ON, a border will be displayed alongside the "game's screen". This border even appear with the other types of screen sizes. This addon comes from the Gen. 1 Pokémon.
3- New Speech Frames:

More 40 new game speech frames were added.
4- Music and Sound Options:

Now players can customize the music volume and sound volume. The game's default is 100. The lower the volume, the lower the music/sound will be. If 0 the music/sound will be off/mute.
5- Exit Game Options in Game Menus: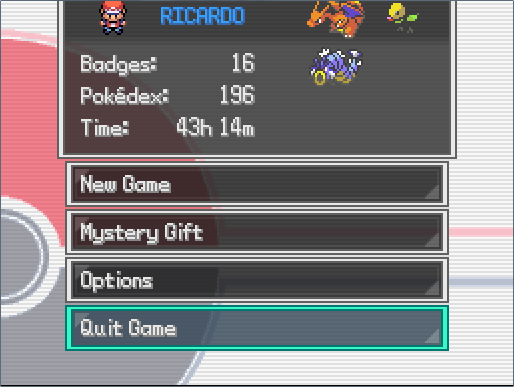 Added Quit Game option in loading screen and in game's pause menu. When choosing this option, the game will ask the player if he wants to save the game before exiting. This option is very usefull for full screen size, because when full screen size the player "can't close the game's window".
6- Braille Book Item:
Braille Book Item were added to the game. Like Unown Report Item, the braille book item will show the players the braille alphabet. This is very useful in braille events. Braille book is a Key Item and it can be found in Mt. Ember in the Ruby Item room.
7- Game's Creator Mansion is Open:
The game's creator Mansion is now open in Celadon City. I consider this my game's pack, because some Pokémon and items can only be found here. This mansion has 5 floors.
1F- Welcome floor.
2F/3F/4F- Prizes floor.
5F- Game creator's floor.
Prizes floor:
This rooms gives the player the oportunity to have all 721 official Pokémon and items. There's 10 machines in total.
How to use that machines:
1st- Players must play the Type Quiz mini game in Cinnabar lab and win special coins.
2nd- In Celadon game's creator mansion (5F), use the special coin in that machine (1 per roll) and it will give you a random prize. But this machine will give, most all the time, ordinary items, it also gives you 9 special items called Vouchers.
3rd- There is 9 types of vouchers 1 kind for each machine.
example: Pokémon voucher can only be used in Pokémon machine to get a random Pokémon lv1. And only basic Pokémon from all regions can be found here including legendary Pokémon. This example is the same method for: Fossil machine, items machine, mail machine, berries machine, TMs machine, Evolutions machine, Miscellaneous machine and Poké Balls machine.
8- New Battle Animations:

New Battle Animations were added. The animations will be added through the game's updates.
The battle animations will be the same as Pokémon fire red and emerald. And they will be madded by me.
Note: some off the older animations are not in place. (this mentioned animations are not madded by me).
9- New game Installer: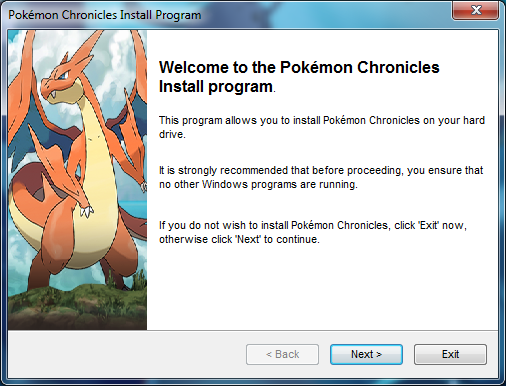 This game now have it's own install program and it no longer requires rpg maker xp editor installed, it only needs the RGSS-RTP Standard installed.
1- Users must download the game and it will be divided into 3 parts.
2- After downloaded the 3 parts into the same folder / location just extract the part 1 and it will automatically join the other parts to form the game exe.
3- Install RGSS-RTP Standard first, the game requires this to play, but it not requires RPG Maker XP installation.
4- Open the Pokémon Chronicles exe. Note that it will run as administrator in your systems.
5- Follow the on screen instructions.
6- You now can choose where to install the game, make shortcuts and you can unistall it from the "Control Pannel" or through unistall exe in the game's folder.
7- The "Fonts" of the game will be required to install if it is the first time you install it in your system, if not it's not required.
8- For those who has the old instalation method, simple delete the game's folder and then install it with this new method. And from now on, it will be this way.
How to unistall Pokémon Chronicles?


1- It will be listed in the Control Pannel in your PC, so it can be unistall this way.
2- In the game's folder you can unistall it by opening the unistall exe.
How to install new versions of Pokémon Chronicles?


Simple, just unistall the game and install the new version.
And players can continue with their old save games.
This new method is more simple for players to install Pokémon Chronicles and remember, this game is still under development.
0- Other Things:
Fixed - Misplaced Bill's Face in Ecruteak PokéCenter.
Fixed - Players got crash after battling Gary for the first time in Oak's Lab, due the Pokémon follow system don't refresh at a point and the A.I. (artificial inteligence) don't detect it at time and then make the game to crash.
Fixed - Water tiles problems in all johto region.
Fixed - 70% of all game's lag.
Added Armored Mewtwo special form when having a speficic item. This form are not official. But the idea come from Movie Pokémon Mewtwo strikes back.
Game speed was improved.
And other improved things / repair bugs and errors.
_________________________________________________________________________________________________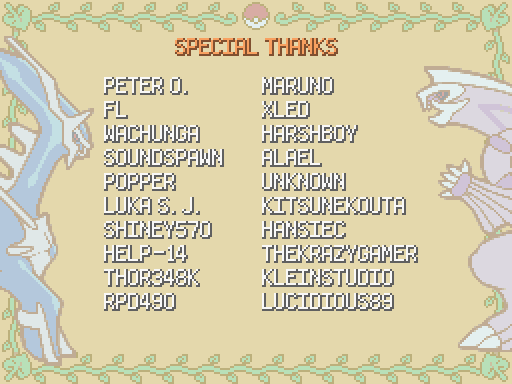 _________________________________________________________________________________________________
If the game crashes on your PC, we can repair it by sending us your saved game.Report bugs or errors here:

Detected some bugs in some Pokémon forms.
Some Abilities are not working well.
This bugs applies only for Pokémon from: Sinnoh, Unova and Kalos.
_________________________________________________________________________________________________
IMPORTANT NOTE:
The players can continue with their save games.
Note:
Remember, this project are still under development.
_________________________________________________________________________________________________
Technical Support/Game's Email:
pokemonchronicles@iol.pt

______________________________________________________________________________________

Download Pokémon Chronicles through parts:


A new version has been released - version 16.7.
______________________________________________________________________________________

Pokémon Chronicles version 16.5 fix Update:


Fixed Crash with XL and Full screen sizes when players tries to open the game after saving it.
Added Mewtwo Armor Form from anime series (non official content).
Deoxys forms now will changes depending the selected moves the players chooses in battle.
Fixed the Stance Change abilitie for Aegislash.
Fixed Xerneas Form.
Fixed some Pokémon forms grafics.
Now TMs will be used once per move, instead of unlimited uses like HMs.
Added Mewtwo Armor form item.
And other little fixes.
Note: This is an urgent update to fix that errors and crashes. Players can still continue with their old save games.
Some Pokémon Forms and Abilities will still be retified and verified for the next update.
Última edição por Ricardo PT em Sab Fev 04, 2017 12:50 pm, editado 9 vez(es)
Script 'Sprite_Resizer' line 20: TypeError occurred
Hello, players.
In Pokémon Chronicles v16.5 was detected this error that crashes your game when players select the XL or Full screen sizes in the game's options menu and saves the game and then when opening it, the game's crash and this error pop's up.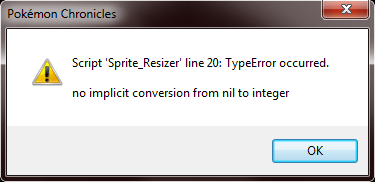 I can't fix this through your saved games, but i founded the error and i fixed it. I have the same error that all of you have, so i tested it after the fix and now the game's works fine. You can continue with your save games.
This fix was maded in the system of the game, that's why i can't fix it through save games and this fix is for: Windows XP, 7, 8,8.1, 10.
I will re-upload the game again for you to download it this weekend (11-11-2016), this is an urgent update.
Sorry for that error.
Pokémon Chronicles creator: Ricardo PT.
---
Permissão deste fórum:
Você
não pode
responder aos tópicos neste fórum