Dezembro 2019
| Seg | Ter | Qua | Qui | Sex | Sab | Dom |
| --- | --- | --- | --- | --- | --- | --- |
| | | | | | | 1 |
| 2 | 3 | 4 | 5 | 6 | 7 | 8 |
| 9 | 10 | 11 | 12 | 13 | 14 | 15 |
| 16 | 17 | 18 | 19 | 20 | 21 | 22 |
| 23 | 24 | 25 | 26 | 27 | 28 | 29 |
| 30 | 31 | | | | | |
Calendário
Quem está conectado
Há
1
usuário online :: Nenhum usuário registrado, Nenhum Invisível e 1 Visitante
Nenhum
[ Ver toda a lista ]
O recorde de usuários online foi de
47
em Sab Abr 02, 2016 12:28 am
Script 'Sprite_Resizer' line 20: TypeError occurred
Hello, players.
In Pokémon Chronicles v16.5 was detected this error that crashes your game when players select the XL or Full screen sizes in the game's options menu and saves the game and then when opening it, the game's crash and this error pop's up.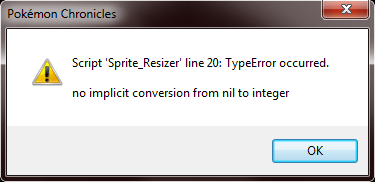 I can't fix this through your saved games, but i founded the error and i fixed it. I have the same error that all of you have, so i tested it after the fix and now the game's works fine. You can continue with your save games.
This fix was maded in the system of the game, that's why i can't fix it through save games and this fix is for: Windows XP, 7, 8,8.1, 10.
I will re-upload the game again for you to download it this weekend (11-11-2016), this is an urgent update.
Sorry for that error.
Pokémon Chronicles creator: Ricardo PT.
---
Permissão deste fórum:
Você
não pode
responder aos tópicos neste fórum