Novembro 2022
| Seg | Ter | Qua | Qui | Sex | Sab | Dom |
| --- | --- | --- | --- | --- | --- | --- |
| | 1 | 2 | 3 | 4 | 5 | 6 |
| 7 | 8 | 9 | 10 | 11 | 12 | 13 |
| 14 | 15 | 16 | 17 | 18 | 19 | 20 |
| 21 | 22 | 23 | 24 | 25 | 26 | 27 |
| 28 | 29 | 30 | | | | |
Calendário
Quem está conectado?
Há
1
usuário online :: 0 registrados, 0 invisíveis e 1 visitante
Nenhum
[ Ver toda a lista ]
O recorde de usuários online foi de
47
em Sab Abr 02, 2016 12:28 am
How to install Pokémon Chronicles Game?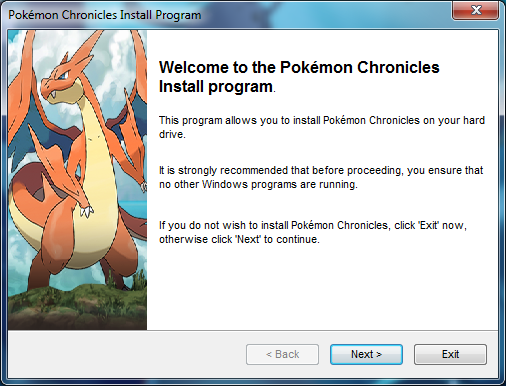 1- Users must download the game and it will be divided into 3 parts.
2- After downloaded the 3 parts into the same folder / location just extract the part 1 and it will automatically join the other parts to form the game exe.
3- Install RGSS-RTP Standard first, the game requires this to play, but it not requires RPG Maker XP installation.
4- Open the Pokémon Chronicles exe. Note that it will run as administrator in your systems.
5- Follow the on screen instructions.
6- You now can choose where to install the game, make shortcuts and you can unistall it from the "Control Pannel" or through unistall exe in the game's folder.
7- The "Fonts" of the game will be required to install if it is the first time you install it in your system, if not it's not required.
8- For those who has the old instalation method, simple delete the game's folder and then install it with this new method. And from now on, it will be this way.
How to unistall Pokémon Chronicles?


1- It will be listed in the Control Pannel in your PC, so it can be unistall this way.
2- In the game's folder you can unistall it by opening the unistall exe.
How to install new versions of Pokémon Chronicles?


Simple, just unistall the game and install the new version.
And players can continue with their old save games.
This new method is more simple for players to install Pokémon Chronicles and remember, this game is still under development.
Tópicos semelhantes
---
Permissões neste sub-fórum
Não podes responder a tópicos