Agosto 2020
| Seg | Ter | Qua | Qui | Sex | Sab | Dom |
| --- | --- | --- | --- | --- | --- | --- |
| | | | | | 1 | 2 |
| 3 | 4 | 5 | 6 | 7 | 8 | 9 |
| 10 | 11 | 12 | 13 | 14 | 15 | 16 |
| 17 | 18 | 19 | 20 | 21 | 22 | 23 |
| 24 | 25 | 26 | 27 | 28 | 29 | 30 |
| 31 | | | | | | |
Calendário
Quem está conectado
Há
1
usuário online :: Nenhum usuário registrado, Nenhum Invisível e 1 Visitante
Nenhum
[ Ver toda a lista ]
O recorde de usuários online foi de
47
em Sab Abr 02, 2016 12:28 am

Game Features:

721 Pokémons to catch;
6 times of the day: morning, afternoon, night, etc;
4 types of weather conditions: Rain, Heavy Rain, Sandstorm, Snowstorm, Heat wave;
350 attacks;
4 regions: Kanto, Orange, Johto and Hoenn;
28 Badges;
7 Battle frontier symbols;
Pokémon Contests;
More than 800 unique items;
More than 7 mini games: Slot Machines, Voltorb Flip, Mining for Treasures, Puzzles, triple Triad, Dodrio Berry Picking, Type Quiz, etc;
Characters of the series of Pokémon;
Music from Pokémon series;
Double trainer battles;
Pokémon can be caught at different times of the day;
Phone Calls System;
Radio System, using in game musics;
Day-care System;
Lottery System;
Kurt Pokéballs;
Players can plant Berries and Apricorns;
Bug Catching Contest;
Safari Zones;
Trade Pokémon with other NPC in game;
Fairy-type;
Mega Pokémon System;
Primal Pokémon System;
Controls System Added: Players now can choose the game controls;
And other things...
______________________________________________________________________________________
What's new in this version of Pokémon Chronicles v15.2:


1- Welcome to Johto Region Part 1: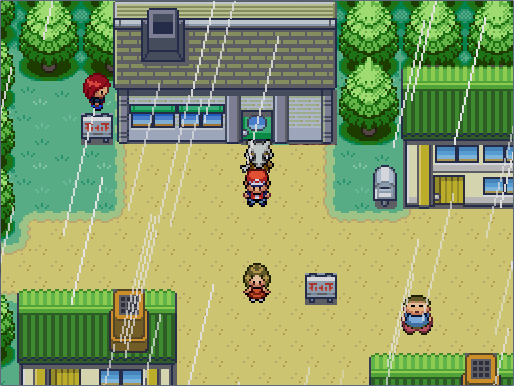 Now players can go to Johto Region. To go to Johto, players must be the champions of Kanto and Orange Leagues, then they must go to Route 22 (Kanto) in Passage house and head to Route 26 and so on.
IMPORTANT NOTE:
This is only the part 1, johto will be available until Violet City.
2- Sand Footprints Animation:


Now when players setps in some sand áreas near water or inside caves, they will leave footprints in the sand.
3- Beach Bubbles Animation:


This kind of animations only appears in beach and special áreas in Hoenn Region.
4- Water Ponds Animation: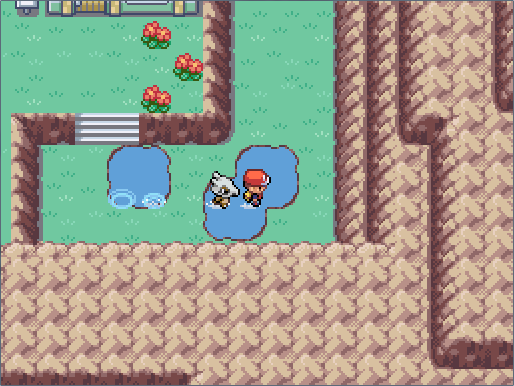 Now when players steps in this tiles, they have reflection image of themselfs and other step animation in the water.
5- PokéNav System: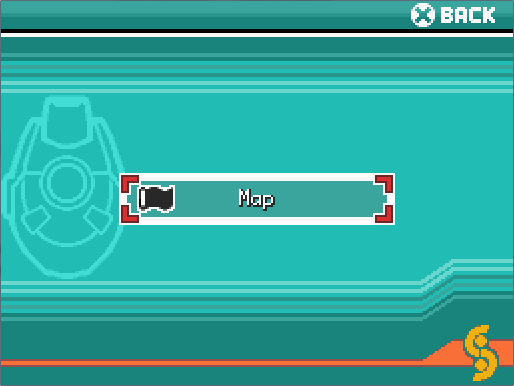 Now players have another option in the Menu, the PokéNav system. This system will be available in Devon Co. in Hoenn Region and PokéGear in Goldenrod City. Pokégear and PokéNav will display diferent options for players.
6- New Evolution Screen: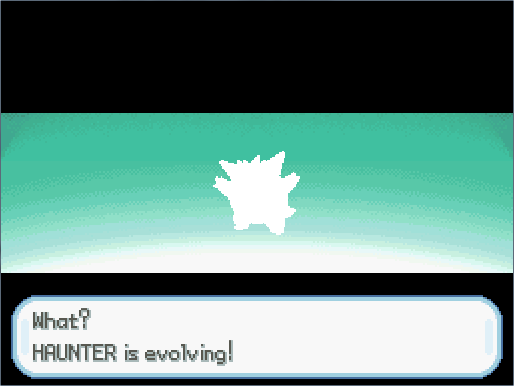 Added the Heart Gold Evolution Scene Animation.
7- Overworld Shadows: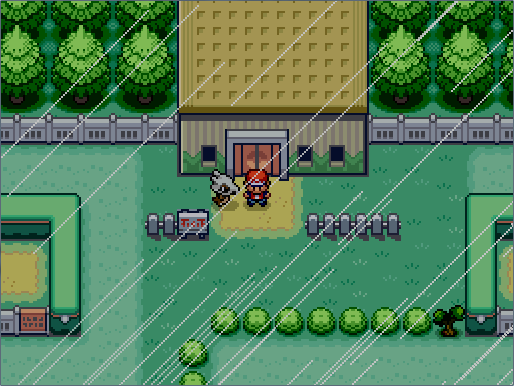 Now player, player partners, event npc, normal npc and other kind of events will have this shadow in game, when available.
8- Birthsigns System: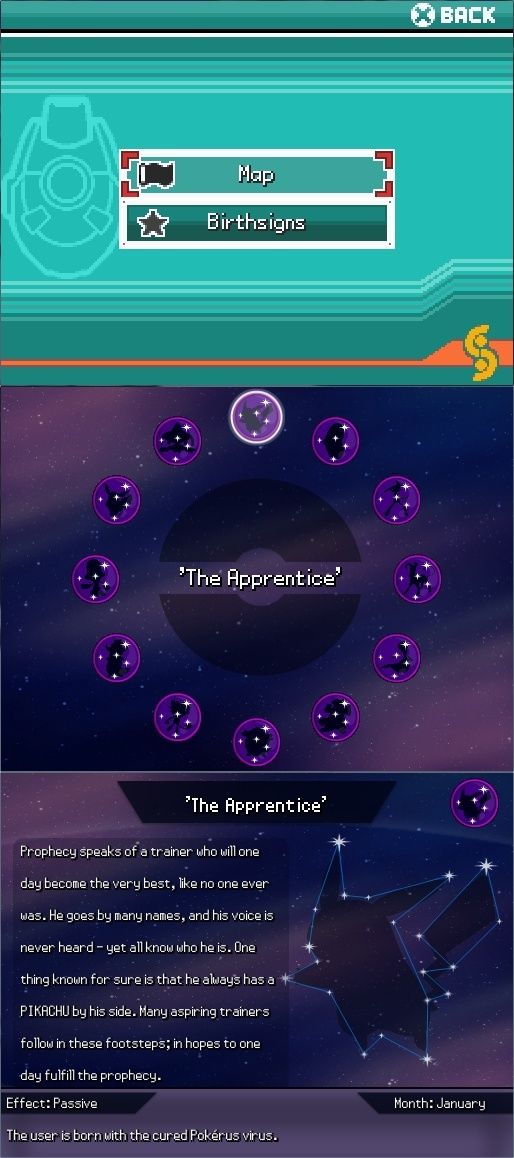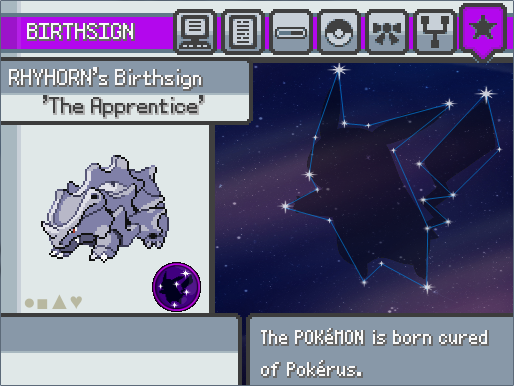 This system only works after hatching Pokémon and not with wild Pokémon.
When Hatching a Pokémon, it will have a birthsign according to the current month that players hatched it.
This system gives some usefull bufs/skills to the Hatched Pokémon:
January - Apprentice - The user is born with the cured Pokérus virus.
February - Companion - The user is born with 100% affection for its trainer.
March - Gladiator - The user is always born male, if able.
April - Hunter - The user has keen tracking skills; boosting capture rates by 20% when leading.
May - Maiden - The user is always born female, if able.
June - Parent - The user has access to the 'Incubate' skill; hatching an egg with under 1,000 steps.
July - Martyr - The POKéMON is born with the first natural Ability.
August - Aristocrat - The user gains 2x prize money while leading. This stacks with other party effects.
September - Scholar - The user gains 20% more experience from battles. This stacks with similar effects.
October - Voyager - The user is always born genderless, if able.
November - Prodigy - The POKéMON is born with the second natural Ability.
December - Wishmaker - The user may sneak up on unsuspecting wild POKéMON to strike while they're asleep.
A new page has been added in Pokémon Summary Category, so players can view the Pokémon current birthsign.
Also, a new option has added to the Pokénav system, so players can view all available birthsign and their information in detail.


9- Other Things:
Added more sound effects such, cut, rock smash, boulders, teleporters, doors, and other sound effects in maps and Pokémon moves in battle.
Added Pokémon Kalos Overworld sprites.
Improved Triple Triad duelists in Celadon City.
Mr. Fuji of Lavender Town has Face image in text messages.
PunchBag minigame was added in Saffron Dojo.
New Pokéballs was added to the game: the Rocket Ball in Kanto Game Corner, Pikachu Ball in Vidian Mart, Anime Kanto Safari Ball in Fuchsia Mart. This pokéballs are from anime series.
In Mandarim Day Care, the players will receive an item called "Day-Care Monitor" from Prof. Oak's Aid. When using this item the players can check the breeding Pokémon at distance.
In Safari Zones, Trainer partners are not allowed to enter with the players, when player enter with a partner trainer he will be automatically separeted from the player and he will return to his location.
Game speed was improved.
And other improved things / repair bugs and errors.
_________________________________________________________________________________________________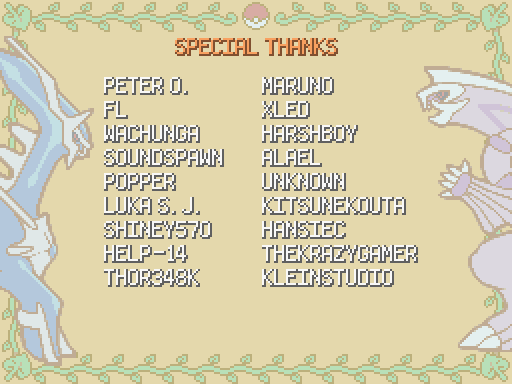 _________________________________________________________________________________________________
If the game crashes on your PC, we can repair it by sending us your saved game.Report bugs or errors here:
Fixed errors in: Day-care system, Pikachu goodbye event, Team Rocket Hideout / Viridian GYM/ Team Rocket Warehouse arrows animations.
Bug: Kanto Safari ball (anime Ball) in Fuchsia Mart only cost 0 pokes.
Bug: When player have a breeded pokemon with parents known by the user in Family tree summary page ( when pokemon is in the party), when the game is loaded / open it shows error messages but it don't crash the game or anything else.
Bug: Errors with Braille and Unown Texts.
Bug: POKéMON Trainer Tower, where player simply repeat the same battle ever and ever.
Bug: Problem with G.S. Ball event before entering Orange Stadium.
And other minor errors or bugs.
IMPORTANT NOTE:
The players can continue with their save games.
Note:
When the player have some error or bugs, send the saved game by uploading in mediafire, 4shared, mega.co, etc. so can i fix the problems. Next version this errors will be fixed. And remember, this project are still under development.
Game's Email:
pokemonchronicles@iol.pt
Download:
A new version has been released - version 15.3.
---
Permissão deste fórum:
Você
não pode
responder aos tópicos neste fórum