Julho 2022
| Seg | Ter | Qua | Qui | Sex | Sab | Dom |
| --- | --- | --- | --- | --- | --- | --- |
| | | | | 1 | 2 | 3 |
| 4 | 5 | 6 | 7 | 8 | 9 | 10 |
| 11 | 12 | 13 | 14 | 15 | 16 | 17 |
| 18 | 19 | 20 | 21 | 22 | 23 | 24 |
| 25 | 26 | 27 | 28 | 29 | 30 | 31 |
Calendário
Quem está conectado?
Há
1
usuário online :: 0 registrados, 0 invisíveis e 1 visitante
Nenhum
[ Ver toda a lista ]
O recorde de usuários online foi de
47
em Sab Abr 02, 2016 12:28 am
RM FPS Control Tool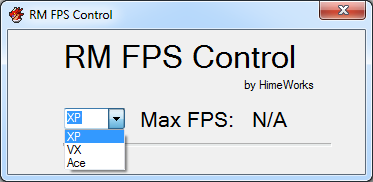 Here you can download the RM FPS Control Tool and use it to speed your RPG Maker game while playing.
Nota:
Required RPG MAKER XP instaled first, or other similar editor and a RPG Maker game running.
Download RM FPS Control Tool:
https://mega.nz/#!FVtU3Sxb!Q-mwNDIQ7mmCJsKPBKGByeaLEgz40el06tMbMYVP2T0
RM FPS Control Tool INSTALLATION INSTRUCTIONS:
1-

    
Open the file "RM_FPS_Control" and it opens a small window;
2-

    
Select "XP", Pokémon Chronicles was maded with RPG Maker XP, that's why this option;
3-

    
Just play the game with this tool at the same time and if you decreases de numbers the slowest the game will be, but if you increases, the fastest the game will be;
4-

    
This tool don't install anything in your PC, but the effects only work when the tool is running with the game at the same time.
---
Permissões neste sub-fórum
Não podes responder a tópicos